Kitchen Remodeling in New Jersey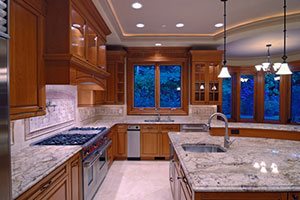 Do you find yourself watching those cooking shows and find yourself throwing flour in the air and making all sorts of delicious treats? No? Is it because there's very little room? well, that's where MSK & Sons Construction comes in. We have just the solution to your cramped kitchen – a kitchen makeover. Our professional kitchen remodeling contractors have been rearranging and modifying kitchens since 1997.
Your kitchen is often a central focus of your home. Most families get together in there at least 2 two times a day, sometime three. But you have to navigate between the sink, refrigerator, stove, microwave, toaster, pantry and dishwasher and it's becoming one big hassle. When you think about it, many aspects of the kitchen impact you. The flooring, the position of appliances, the number of electrical outlets, counter tops and that itty-bitty sink – these all play a part in how well and efficiently you can prepare meals.
If you just need some tweaks to the appearance of your kitchen, or possible a whole remodel, MSK & Sons Construction is the only contractor to call to meet your needs. We'll come in and replace your counter tops. This will give you more cooking space. Then, we'll replace your flooring to help prevent slippery surfaces and make cleaning up all of that flour much easier. We may even come in and take out a wall. Doing so will open up your kitchen and allow for a breakfast nook. Or maybe, you are desiring a kitchen island. Whatever your dream kitchen looks like in your head, we can make it happen.
Our New Jersey Kitchen Remodeling Contractor Provides the Following Services
Kitchen Cabinets & Counter tops
Whole Kitchen Renovations
Modern Kitchen Conversions
Appliance Installation
Recent Articles
If you are looking for a professional Kitchen Remodeling contractor in Northern & Central New Jersey, then please call 973-296-7079 or complete our online request form.