Midland Park remodeling Contractor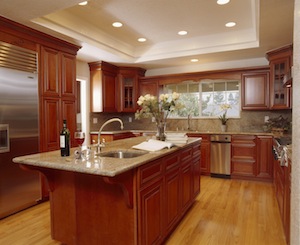 Our New Jersey Bathroom & Kitchen Remodeling Company provides high-quality remodeling services to homeowners like you. We are a Midland Park remodeling contractor that offers an extensive collection of remodeling services to improve every room in your home to your specifications. Our team knows the value of having a reliable remodeling contractor on your side so please don't hesitate to give us a call when you would like to start planning your next remodeling project and we will be glad to get started!
Midland Park Kitchen Remodeling
The kitchen is more than a room where meals are prepared; it's a place for families to gather and share memories together. We know that having a kitchen that meets your needs is a dream for most homeowners and we want to help make that dream come true! We work closely with you to find a design that focuses on what you want and start building accordingly. Whether you want to give your kitchen an updated look with newer appliances or would like to completely renovate, we are here to help!
Midland Park Bathroom Remodeling
Who doesn't yearn for a spa-sized bathtub in their own home? With the help of the team at MSK & Sons Construction, you can! We strive to help every client create the bathroom that they always wanted, no matter how involved the project is. We can take your dull, utilitarian bathroom and turn it into a personal oasis. Conversely, we can help tone down your bathroom if you are tired of dealing with too many bells and whistles. Don't hesitate to give us a call any time you would like to start remodeling your bathroom.
Midland Park Whole House Remodeling
Don't limit your remodeling projects just to your bathroom and kitchen. We can transform your whole house into the home of your dreams with ease. Call us today and we will be glad to walk with you through every room, noting your specific needs and wants. No job is too big or too small for us and we are always pleased to help our client meet their goals. Your new house is one phone call away.
If you are looking for a Midland Park Remodeling Contractor then please call 973-296-7079 or complete our online request form.