Montclair Remodeling Contractor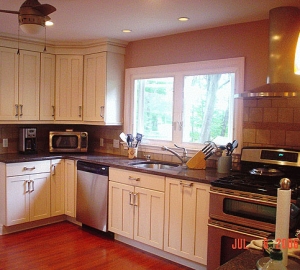 Most homeowners decide to take on at least one remodeling project. It's a nice way to always keep your house up to date and stave off stagnation. Staring at the same wallpaper for 30 years has to get old sometime. Our New Jersey Bathroom & Kitchen Remodeling Company is always glad to help our customers with remodeling projects to turn worn out homes into beacons of modern style and efficiency. We are so glad to be able to do the job we love and with 25 years of experience, we've become a premier Montclair remodeling contractor. No matter what remodeling project you want to undertake, we will always be glad to help.
Montclair Kitchen Remodeling
Do you watch the countless television cooking shows and think "One day, I will have a kitchen like that." Well, today you can start planning for that all-star kitchen. We help people realize their vision when it comes to renovating their kitchens to in order to fulfill their wishes and needs. There are endless possibilities for adding on to your kitchen or just as far as replacing outdated appliance. New technology makes kitchen appliances like stoves and oven ranges more energy efficient than ever before. Don't be afraid to strive toward kitchen greatness.
Montclair Bathroom Remodeling
The same can be said of your bathroom. Don't settle for a boring bathroom that you can't even enjoy a long bath in. We can help you use your space wisely to incorporate more storage space than ever before and luxurious fixtures that make your morning shower and evening soak better than you imagined. Don't hesitate to give us a call today to start planning your new bathroom.
Montclair Whole House Remodeling
Remodeling your house has never been so easy as it is with MSK & Sons Construction at your side. There is nothing we love more than seeing the smiling faces of the families we help remodeling to make their dream home come to life. Remodeling doesn't just apply to your kitchen or bathroom. We can help mold your whole house into any style or décor you wish while keeping it running efficiently. We always work closely in the planning phase to make sure that everything we do lives up to your expectations.
If you are looking for a Montclair Remodeling Contractor then please call 973-296-7079 or complete our online request form.