Montvale Remodeling Contractors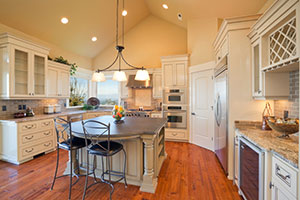 It's not in our nature to be boastful, but we do happen to be known as the smart choice when it comes to Montvale remodeling contractors. With a rate of 80% repeat and referral business, it has to be true that we are doing something right. For one thing, we always make it a point to listen to the needs of our clients. Too many so-called pros, bully their way through the job giving you what they want and what adds up at the end of the job.
So while we make it a point to offer direction and advice from our years of hands on experience, we are there to take care of the work you want done for your residential or commercial structure. The rest of what we are known for is based on our capability to deliver the best in craftsmanship and superior customer service. Let our New Jersey Bathroom & Kitchen Remodeling Company show you firsthand how our commitment to hard work and customer service made us what we are today.
Home Improvement in Montvale
Each home improvement job we tackle is unique for one reason or another. Each customer has their own vision for how they want the job to look once it is completed. At MSK & Sons Construction we are always excited to take on a new project and hear more about how we can help each client. If you can envision it we can make it happen. And if you don't know exactly what you want don't worry, we can help with that too.
Why settle for anything less than the best when it comes to your home or commercial space? Deciding to work with a less than reputable company is going to get your less than desirable results – that you still get to pay for. So don't keep putting it off; give our team of pros here a call today so we can begin.
Montvale Bathroom Remodeling
If you are thinking about interior renovations you may be thinking about a bathroom remodeling job. It's probably not a shock that this is one of the most commonly requested jobs we take on. We are grateful for the chance to be able to work with our customers to help transform their current bathrooms into something more serene and relaxing they can enjoy instead of dread. Let us show you what we can do for you.
Montvale Kitchen Remodeling
So it probably goes without saying that the other most popular service request we get is for kitchen remodeling. One of the smartest investments you can make is this project. Not only does it increase the property value of your home but it also makes your time in this room that much more enjoyable. Contact us today to get started.
If you are looking for Montvale Remodeling Contractors then please call 973-296-7079 or complete our online request form.