Boonton, NJ Remodeling Services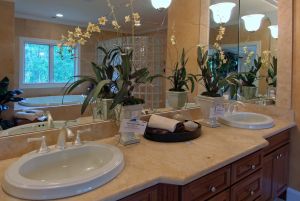 When the warmer weather comes to New Jersey, it's not uncommon for different remodeling projects to begin. If you're a resident of Boonton, NJ, and you're considering some home improvements this year, there's no better place to start the changes than with Boonton kitchen or bathroom remodeling (or both!)
These areas of your home make a bold statement on the design and function of your home. When your kitchen and bathroom are dreary and old, it only brings you down because you have to be in those spaces day in and day out.
The old caulking, the outdated tile, the little lines of possible mildew, the paint or wallpaper peels along the edges, the cabinetry that dates back to the 1970's and more will eat at you every time you see them.
Well, this is the year for a whole new start! Let your eyes rest on a luxury jetted tub instead, or how about a two person shower with a beautiful new stone finish? Perfect lighting, beautiful mirrors, glamorous faucets, modern and unique fixtures…-it can all be yours this year!
Kitchen & Bath Remodeling in Boonton
The kitchen & bathroom are often the areas homeowners start their home improvements. It's always a good idea to start in these areas because you get the most use out of the changes and normally will add the most value to the home for reselling or equity purposes.
Remodeling your kitchen or bathroom can give you not only an updated home but can also ensure better safety measures are in place. Adding enough outlets, and installing GFCI outlets that protect from shock where water is nearby, installing plenty of good lights so you can see better to groom or cook and clean, and more can be great additions to your remodeling plans in these areas.
Complete Home Remodeling in Boonton
At MSK & Sons Construction, we are fully licensed and insured general contractors who can remodel your entire home. Whether you want to gut it out and start fresh or want to make specific changes all around your home, we can handle the project with expertise. All you'll need to do is call on our experienced staff.
Since 1997, we have given the best in New Jersey kitchen and bathroom remodeling services, and we've helped many homeowners in Boonton and surrounding areas with small projects or entire renovations. We have been the local, trusted remodeling company serving New Jersey since 1997.
Our reputation is important to us. In this, you know that we do everything we can to give our customers complete satisfaction. When you need a contractor you can trust from the beginning to the end, you'll need MSK & Sons Construction!
If you are looking for a Professional Remodeling Company in Boonton, NJ, please call 973-296-7079 or complete our online request form.