Caldwell, NJ Remodeling Services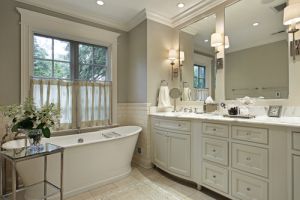 Our Caldwell remodeling company can help you with your remodeling project to give your home a makeover. From the beginning and all the way through the end of the project, we can assist you and guide you in making those decisions so you experience a remodeling project that is worry-free and a good experience.
MSK & Sons Contracting will help you make the most out of your remodeling projects. Since 1997, we have helped your friends and neighbors in Caldwell and surrounding areas of NJ. Let us help you change your home into what it was meant to be…a place where you find comfort and happiness!
Kitchen & Bath Remodeling in Caldwell
The outlets in the kitchen and bathroom are constantly being accessed for power, and in these areas where there is also water present, it becomes vital that you have safety features in place like the installation of GFCI outlets.
These outlets help to protect you from electrical shock wherever electricity and water may meet when using appliances or equipment that is plugged into them.
In the kitchen and bath, you may also want to add some additional outlets so there's a sufficient number to use without having to add extension cords or adapters at the outlet. When your space functions properly, you'll be ensuring better safety measures for everyone who needs to use power.
MSK & Sons Construction is a premier New Jersey Bathroom & Kitchen Remodeling Company. Just give us a call and we can answer any questions you may have about remodeling your kitchen or bath.
Complete Home Remodeling in Caldwell
Whether you want to change it structurally or not, at MSK & Sons Construction, you'll have a professional remodeling company with years of experience in the industry and in your local community.
Our company is professionally licensed and insured and we are fully qualified for any type of remodeling, whether it's just one room or you are after a complete home remodel. We are local, trusted general contractors who can handle your complete home remodeling.
If you are looking for a Professional Remodeling Company in Caldwell, NJ, please call 973-296-7079 or complete our online request form.