Hamburg Bathroom & Kitchen Remodeling and Basement Finishing Contractors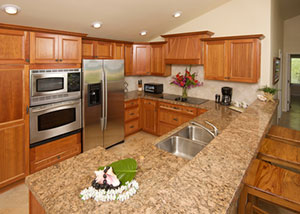 Why are you still living with a small, cramped bathroom? And you know that your kitchen is way smaller than it needs to be. Have you thought about hiring a bathroom remodeling contractor or a kitchen remodeling contractor? The professional home remodeling contractors had MSK & Sons Construction have been remodeling homes just like yours since 1997. Our contractors are licensed, insured and bonded. Why not call today for a free home remodeling estimate?
Hamburg Bathroom Remodeling
You and your wife have been sharing that bathroom same sink for the past 15 years. Don't you think that it's time for you a "his and hers" vanity option? How are Hamburg bathroom remodeling contractors know exactly what you need. Since we started in 1997, there is not a bathroom remodeling project that we couldn't handle. Our excellent contractors will walk you through the entire process, step-by-step, and be with you every part of the process. If you need a new bathtub – done. If you would like brand-new shower system – done. You need two sinks instead of one – done. We've seen it all and we've done it all. And we can do yours next.
Hamburg Kitchen Remodeling
Is there anything more frustrating than trying to get something out of the oven, but because your kitchen so small you forgot the dishwasher door was down and they slammed into one another? If your kitchen is so small you feel claustrophobic, give MSK & Sons Construction a call today. Our Hamburg kitchen remodeling contractors take great satisfaction in creating your dream kitchen. Bring us your ideas you've sketched out on many pieces of paper and we will put them together and make your kitchen that you are happy to come home to. 
Hamburg Finished Basements
We all have that friend's house that we go to and he always wants to go down into his basement because it is the coolest part of his house. But you know that your basement is unfinished and is just basically one big junk storage area. Why not let MSK & Sons Construction change that. When we come and oh your basement, you will be pleasantly surprised at the transformation. Now your friend won't be inviting you over but he'll be wanting to come over to your place to see your new basement. Call today and speak with one of our home remodeling contractors to let us show you how we can give you the finished basement of your dreams.
Zip Codes We Provide Remodeling in Hamburg, NJ:
20095 | 21149 | 22769
MSK & Sons Construction appreciates your feedback. Please give us more time to collect your reviews and they will be displayed below.
---
Recents Articles
If you are looking for an experienced Bathroom & Kitchen Remodeling contractor in Hamburg, NJ, then please call 973-296-7079 or complete our online request form.