Sparta Bathroom & Kitchen Remodeling and Basement Finishing Contractors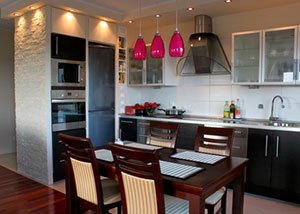 So you didn't buy your dream, what next? Have you ever thought about that you can turn your existing Sparta home into your dream home? Let the professional home remodeling contractors at MSK & Sons Construction come in and make your "Blah" home into the "WOW!" home. Our bathroom and kitchen remodeling contractors have been completing projects just like yours since 1997.
Sparta Bathroom Remodeling
Let's face it. You spend a lot of time in your bathroom. Whether you are a 'stand in the shower for a long time' guy or you're a'soak in the bath for an hour' guy, we've got you covered. The Sparta bathroom remodeling contractors that work for MSK & Sons Construction are trained professionals who have been remodeling bathrooms for over 15 years. 
If your bathroom is just big enough for your to turn around in, it's time to hire a professional home remodeling contractor. We are licensed, insured & bonded and have the know-how to come into your bathroom, tear it all apart and create something beautiful out of it. Call us today.
Sparta Kitchen Remodeling
Being a full-time spouse & parent, you may find it hard to keep up with the rigors of family life when it comes to cooking and cleaning your Sparta kitchen. If your kitchen is not set up for large-scale meals, it can prove to be very difficult. Consider remodeling your kitchen. This would be a great way to not only in prove the look and feel of your kitchen but it can also help you cook your meals more efficiently which means having more time for the family. When you remodel your Sparta kitchen, you also raise the value of your home. Let the professional kitchen remodeling contractors come in and show you what they can do to a kitchen.
Sparta Finished Basements
Is your basement still unfinished? It's time to take all of the stuff that you've stored in there over the past couple of years and do something radical with it. Has it become a stockpile of unneeded and unnecessary and unwanted items? Do you ever think that your basement was meant for so much more? Call the professionals at MSK & Sons Construction and our experienced basement finishing contractors come in and turn that black hole into a whole new living experience. From game rooms to entertainment centers, from wine cellars to hey spare bedroom, we tenet all and will do it again for you.
Zip Codes We Provide Remodeling in Sparta, NJ:
07871
MSK & Sons Construction appreciates your feedback. Please give us more time to collect your reviews and they will be displayed below.
---
Recents Articles
If you are looking for an experienced remodeling contractor in Sparta, NJ, then please call 973-296-7079 or complete our online request form.