Waldwick Bathroom & Kitchen Remodeling and Basement Finishing Contractors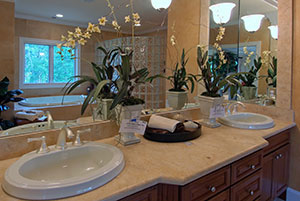 MSK & Sons Construction is a long trusted New Jersey bathroom and kitchen remodeling contractor. With over 15 years of serving New Jersey, our reputation speaks for itself. We are honest, hard working, reliable and offer high-end quality craftsmanship. The list of satisfied is long and we'd love to add your name to it. 
When you choose MSK & Sons Construction to serve you, you are indeed choosing New Jersey's finest home remodeling contractor.
Waldwick Bathroom Remodeling
With over 15 years of experience renovating and constructing new bathrooms for homeowners throughout Wayne, NJ, MSK & Sons Construction is the only company you can trust to do what they say they'll do. We know that a Waldwick bathroom remodeling project is an investment – make that investment with a contractor with integrity and honesty. Your bathroom should be functional. If it's just big enough for you to turn around in, then there's a problem. The Waldwick bathroom remodeling contractors at MSK & Sons Construction are highly trained and can help you plan out a beautiful and amazing bathroom design that opens up your bathroom to your lifestyle needs, wants and budget.
Waldwick Kitchen Remodeling
Stop the suffering. We know that in your tiny, cramped kitchen, you suffer every night making dinner. We know that having the space to move in a kitchen is very important. When it comes to Waldwick kitchen designs, functionality is king. If you can't do the simple things without being all bunched up, what use it? Call the professional Waldwick kitchen remodeling contractors at MSK & Sons Constructions. We offer complete kitchen remodeling. Your Wayne, NJ kitchen design should reflect your lifestyle. When you're ready, we'll be there every step of the way during your kitchen remodeling project.
Waldwick Basement Remodeling
There are basements and the then basements. Are you like a majority of Waldwick homeowners who keep your basement held hostage with loads of stuff you haven't even seen in two years? If so, cal our amazing Waldwick basement remodeling contractors. We have transformed and remodeled every type of basement and have converted them into many different types of rooms. The crowd favorite right now in creating a home theater. When you're ready, call the best Waldwick has to offer – MSK & Sons Construction. There is a reason why we are the premiere Waldwick basement remodeling contractor – we have outstanding remodeling skills. With over 15 years of experience, we have been tested on our creativity and ingenuity and every time, we prevail. Call today for a free estimate.
Zip Codes We Provide Remodeling in Waldwick, NJ:
07463
---
Mike's craftsmanship was outstanding. On Budget and at a very Amazing Time Frame!

Mike Kubrin designed and assisted in ordering components of and installed a new kitchen for us in Waldwick, NJ. The project was a total success from beginning to end. Mike's craftsmanship was outstanding and the finished kitchen met our every requirement. Mike was instrumental in working with the cabinet maker and met with him to ensure that there would be no mistakes in the custom cabinet layout. Our kitchen came in exactly on budget and at a very amazing 3 week time frame!

---



Recents Articles
If you are looking for an experienced remodeling contractor in Waldwick, NJ, then please call 973-296-7079 or complete our online request form.