Haworth Interior Remodeling Experts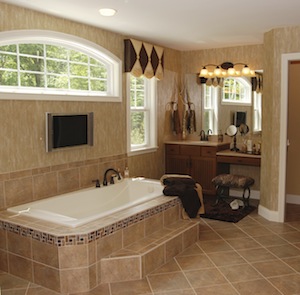 By focusing completely on the quality of their work, MSK & Sons Construction has become the preeminent name in residential interior remodeling in the Haworth area. Our residential remodelers have over seventeen years of experience. For that time period, our Haworth remodelers have exceeded customer expectations at every step of the way.
At MSK & Sons Construction, we have the skill, experience, training, and methods necessary to provide for all of your residential remodeling needs. Whether you need to remodel one room or you are looking to renovate the entire interior of your Haworth home, we can get the job done quickly and expertly. Our interior remodelers are proficient with basement finishing, bathroom remodeling, kitchen remodeling, home additions, and more.
All of our residential remodelers are extensively experienced and highly trained. Each of our Haworth contractors maintains the full range of the required professional licensees. When you hire our Haworth residential remodelers, you can feel confident that the job will get done correctly the first time around.
Call us today if you are considering any interior residential remodeling project. Our professionals are always happy to tell you how our services can improve the look and utility of your Haworth home. We are happy to answer all of your questions, and we will excitedly set up your appointment today.
Haworth Bathroom Remodeling Services
Our Haworth bathroom remodelers can help you at every stage of your bathroom remodeling project. We understand that you and your family must enjoy both the look and usefulness of your Haworth bathroom, the bathroom remodeling project only being as successful as you enjoys it. For this reason, we listen to your inputs at every step of the bathroom remodeling project in order to provide you with the bathroom that you and your family want.
Haworth Finished Basement Services
Although your Haworth basement may be used for storage space, it often feels as if that are of your home is going to waste. Our Haworth interior remodelers can help you maximize the usefulness of this space by turning it into a finished basement.
Our basement finishing professional can turn you basement into a new living space, bathroom, entertainment area, kitchen, or combination of all four. Refinishing your basements adds to your family's enjoyment of its home while adding substantial value to your property as a whole.
Haworth Kitchen Remodeling Services
At MSK & Sons Construction, our kitchen remodeling services are second to none in the Haworth area. We have the skill and craftsmanship to help you design you kitchen layout to perfection. We will work tirelessly to customize the flooring, cabinets, countertops, appliances, and backsplash to meet your family's unique tastes and your property's unique layout. We guarantee that you and your family will enjoy the benefits of our kitchen remodeling services for years to come.
MSK & Sons Construction appreciates your feedback. Please give us more time to collect your reviews and they will be displayed below.
---
Recents Articles
If you are looking for an experienced remodeling contractor in Haworth, NJ, then please call 973-296-7079 or complete our online request form.