River Edge Bathroom & Kitchen Remodeling and Basement Finishing Contractors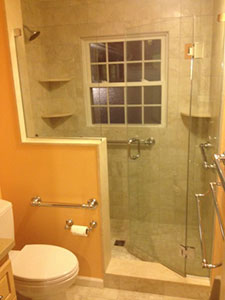 When you bought your home, was it your dream home, or did you 'settle'? If you settled and are growing unhappy with certain aspects of your and and moving is not an option, consider hiring the professional home remodeling contractors from MSK & Sons Construction to come in and turn your "blah" into "WOW!" Since 1997, we've been remodeling kitchen, bathrooms and basements. Our goal is to make your dreams come true. Call us today!  
River Edge Kitchen Remodeling
When you ready finally pull the trigger and get the kitchen you've always wanted, call who River Edge calls for their kitchen remodeling projects and that's MSK & Sons Construction. For over 15 years, we've been coming into homes ripping out kitchen cabinets, taking off kitchen countertops and knocking down kitchen walls. But when we leave, the end result is priceless. Our clients are much happier with the layout of their kitchen, the flow from appliance to appliance and the overall feel of how their River Edge kitchen feels. Aren't you ready to add your name to the long list of satisfied MSK & Sons Construction clients?
River Edge Bathroom Remodeling
If you need a good bathroom remodeling contractor, call the other guys. But if you want the best that River Edge has to offer to come in and finally give you a little piece of heaven on earth with a new bathroom, then call MSK & Sons Construction. Our professional home remodelers have over 15 years of experience installing new shower stalls, bathtubs, sinks and custom vanities. We know how to get in and get out of your home with minimal distraction to you and your family. 
River Edge Basement Remodeling
If your basement is tired and lame and is basically your 'storage' area – STOP! Unleash the potential for an amazing room that can be used as a home office, private gym, family fun room, media room, children's playroom and so much more! When you hire MSK & Sons Construction to for your River Edge basement remodeling project, you'll be amazed at the quality of the craftsmanship and the speed and efficiency of the work done by our contractors. We will give you a room that you'll be proud to show off to friends and family.
Zip Codes We Provide Remodeling in River Edge, NJ:
07661 
MSK & Sons Construction appreciates your feedback. Please give us more time to collect your reviews and they will be displayed below.
---
Recents Articles
If you are looking for an experienced remodeling contractor in River Edge, NJ, then please call 973-296-7079 or complete our online request form.