Expert Saddle River Home Remodeling Contractors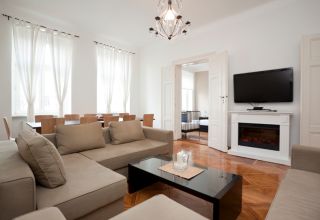 Our team of professional Saddle River remodeling contractors here at MSK & Sons Construction have the ability to help you with any of the home improvement projects you've had in your mind for a while now, but just haven't gotten around to doing. Our team of remodeling professionals are specialists when it comes to New Jersey bathroom and kitchen remodeling projects, but we offer a wide range of additional general home remodeling services as well. We have the ability to conduct a whole home remodeling task or even extensive room addition projects. The one underlying factor beneath all of our work, however, is our unwavering commitment to deliver the highest quality remodeling service in the area and maximizing your level of satisfaction with all of our services.
If you have a home improvement project planned for your Saddle River home, but just haven't found the time for it yet, give the professionals at MSK & Sons Construction a call today. Our knowledgeable and courteous staff are happy to assist you in any way they can, whether it is scheduling your remodeling work, or just answer any questions you may have about the many different services we offer. Our knowledgeable team of Saddle River home remodeling contractors are here to answer any questions you may have about your upcoming project and can even offer insight and advice if you are having trouble nailing down all of the little details that go into every successful home remodeling project.
Saddle River Kitchen Remodeling Services
Remodeling your home's kitchen can be an extremely rewarding experience, and can even help to increase the value of your home significantly if the project is done right. In order to make the most of your remodeling project, however, you will absolutely want the help of a professional kitchen remodeling expert to help guide you through the process and get the work done efficiently and to a high standard of quality. When you are investing the money into a kitchen remodeling project, you want to make sure that your finished results are going to be results that are perfectly suited to your particular design tastes and your functional needs. During your remodeling work, our team of professionals will constantly stay in touch with you to ensure that your design is being carried out in exactly the way you had envisioned it. By the time we have packed up and left, the kitchen of your dreams will be a reality.
Bathroom Remodeling Services In Saddle River
If you are looking for a great first remodeling project, you can hardly find a better room than the bathroom. Because of the frequent amount of use this room receives, any changes you make to enhance the way this room functions can be extremely rewarding. In addition, due to the relatively small size of the room, the work can usually be carried out fairly quickly and efficiently, and can even be done on a limited budget. Here at MSK & Sons Construction, our team of bathroom remodeling contractors are here to help you make the most of your bathroom remodeling project throughout every phase. Whether you are looking for new vanities and cabinets, or you are looking to completely gut out your old bathroom and transform the space into something brand new, our team of professional contractors are the team you can count on to get the job done.
If you are looking to hire a professional home remodeling contractor in Saddle River or the surrounding area, give us a call today at 973-296-7079 or fill out our online request form.